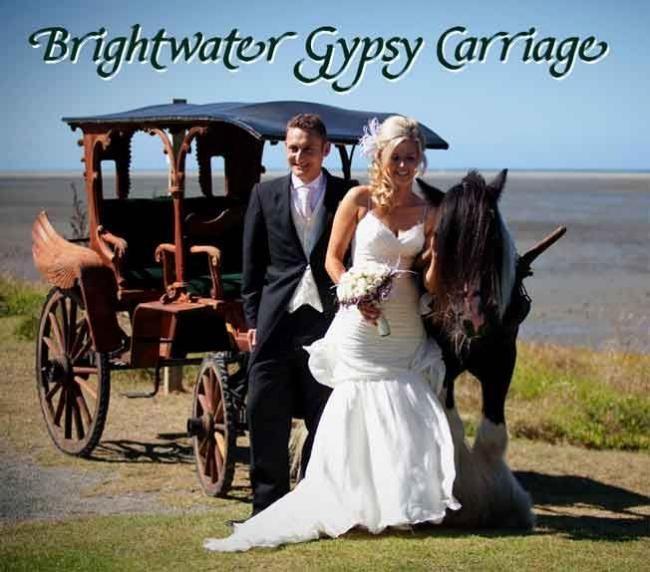 ---
Weddings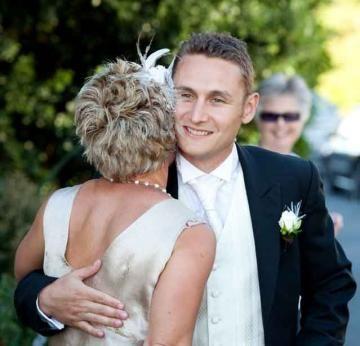 Evoke a sense of magic and sentiment arriving in an elegant, one of a kind, vintage horse drawn carriage. Transport yourself back in time to a quaint period and sit back and enjoy the clip clop of hooves. It's a peaceful and romantic way to arrive at your ceremony, and a sight your guests will never forget. Guaranteed to make you feel like royalty and all your dreams come true.
---
History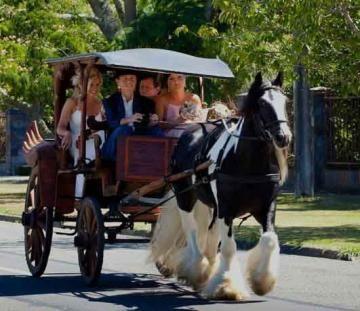 Brightwater's Gypsy Carriage is nearly a hundred years old and was discovered 4 years ago sitting in a travellers back yard waiting for us. It was love at first sight when this beauty was spotted and it just gets better looking each year with age.

Very little is known about the carriage and any information that anyone can add to its history or verify, would be most welcome. What we have been told so far is the undercarriage/chassis was from a Landau, originally built at the turn of the century in England and then shipped to Djakarta, Indonesia in 1920. The carriage was then built and commissioned to pull British Diplomats for a 35 plus years. It was then sold into private use as a taxi service in the 1950's before being bought off the docks of Kuala Lumpar in the 1960's by a timber merchant from Dunedin, New Zealand. It was next purchased by Alex Hulled in Timaru before selling it to Steve from Golden Bay in 2001, who himself was raised by the gypsies in the UK. When he realised that his carriage was to be pulled by a bonafide Gypsy Vanner bred by his ancestors, he was more than thrilled to let it go to its new home in 2006. In his own words….."it needs a real horse pulling it".
---
Restoration Work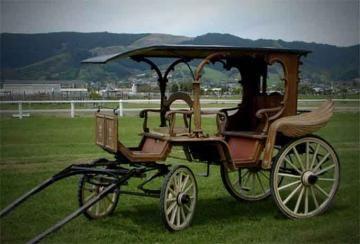 Restoration work began in 2008 and so far the whole carriage has been stripped of its peeling varnish, lead based paint and brought back to it natural wood state of teak. All the pin striping and small pictures were removed as well, but pictures were taken so it can all be painted back on its original condition. The worn out seats have been re-upholstered with a lush forest green velveteen fabric and the under carriage was painfully re-painted black. There is still much to do before it is complete, but even so it is an amazing piece of work and believed to be a one off in the world.....there is nothing else quite like it due to its unique curves of the wings, the intricately carved wood work and its colourful history. Being made of Indonesian Teak she is not a light carriage and Mr. Beau Jangles does well to pull it when fully laden with 5-6 people. Shown above in its original state when purchased in 2006 by Brightwater Gypsy Vanners.


---
The Horse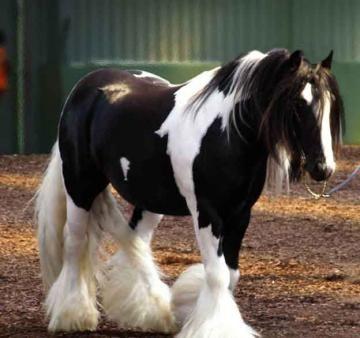 Mr. Beau Jangles is your gypsy vanner that pulls this most magnificent carriage on your special day. He is one of 3 stallions on our farm and is known for his gentleness and very laid back personality. There is only a handful of these horses in the country and with all his hair flowing and beautiful colouring he is the equal of this carriage. Together they make a breath-taking sight to behold. The run down the water front in Tahunanui was met with crowds of waves and clapping with people hanging out of their cars taking pictures as they slowly passed by. It was a moving experience for the bride and groom, making them feel like king and queen on their very special day. More pictures of Mr. Beau Jangles can be seen here.
---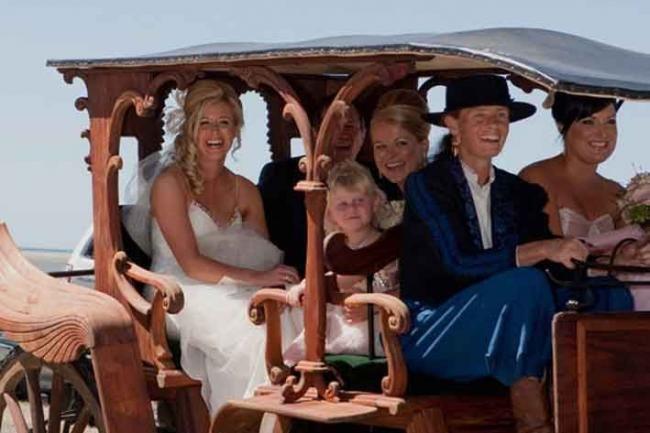 ---
Weddings Costs
As Brightwater Gypsy Vanners has just moved from Nelson to Wellsford, it will take some time to set up again. We will be announcing prices here once we get back on our feet so please check back or contact us to inquire.
---
Bookings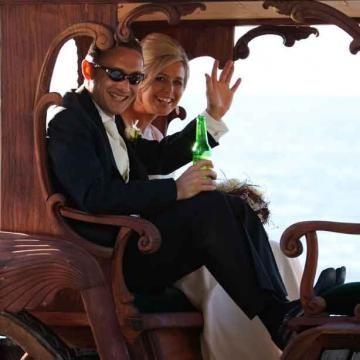 To hold your preferred date a 50% non refundable deposit is due upon booking with the remaining 50% due one month before your wedding date. This will be strictly adhered to and failure to meet payment dates will result in loss of your booking.

NOTE: Not all venues are feasible. Please let you host know where your venue is as difficult terrain can be almost impossible for the horse and carriage to go to, due to excessive weight restrictions. All carriage travel must be done in daylight hours only.

---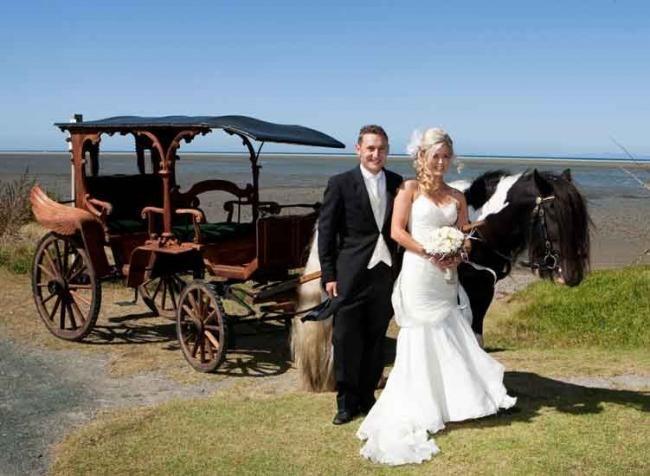 ---
Princess Birthdays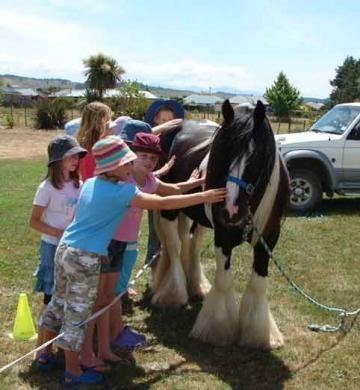 Why not make you child's birthday special with a visit from Mr. Beau Jangles and kiddy rides to follow. Can you imagine the excitement of little girls when their dream Barbie doll horse walks into their back yard as an unexpected surprise. Mr Beau Jangles is happy to have children around him scratching his ears and bum which puts him to sleep. We have had children as young as 1 ride him and your handler Kathy has been known to sit on him with a child on each hip. Each child takes home a mini poster of Mr Beau Jangles as a momento of their special day.

COST - $500.00 + GST
Includes a 3 hour visit plus mini poster for each child.
Travelling Cost extra
---
---
Special Occasions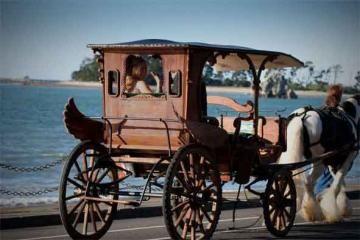 Have a special anniversary, proposal to make or just met the woman of your dreams. There is nothing more romantic than travelling on a horse drawn vehicle with the idyllic sound of hoof steps. Make her night unforgettable by picking her up in a elegant horse and carriage. Stop off at your favourite restaurant and afterwards take a trip along the waterfront with a bottle of champagne before escorting her back home. Special Occasions can be tailored to your needs and requirements, just ask and we will endeavour to accommodate your wishes.
---
Wine Tours & Corporate Events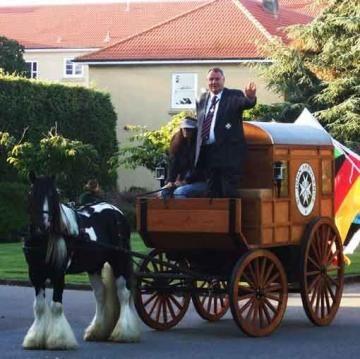 If you would love to take a wine tour with a special twist then book a day with us and Mr Beau Jangles. Our carriage and Mr. Beau Jangles are for hire together or separately throughout both islands for whatever needs you may have. Feel free to discuss your requirements with us.




---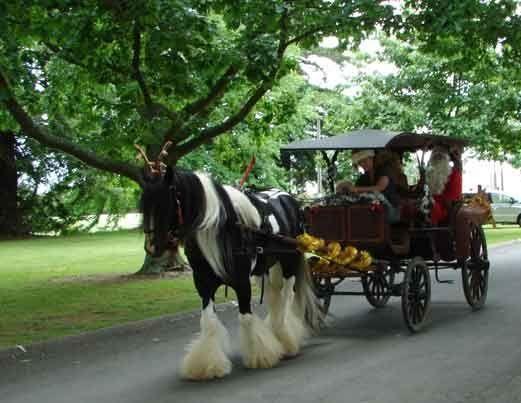 ---
COSTS
Cost for Wine Tours, Special Occasions and Corporate Events – TBA


---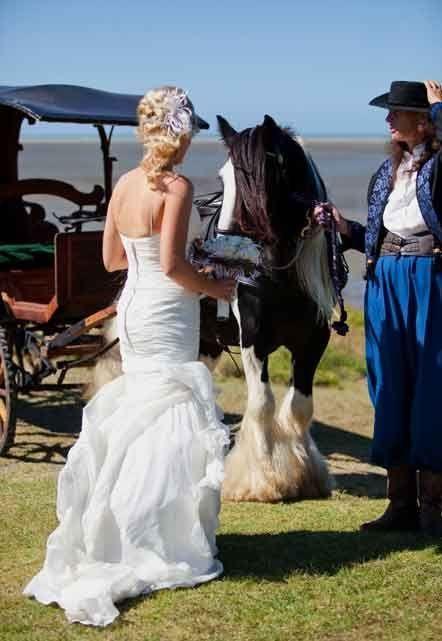 ---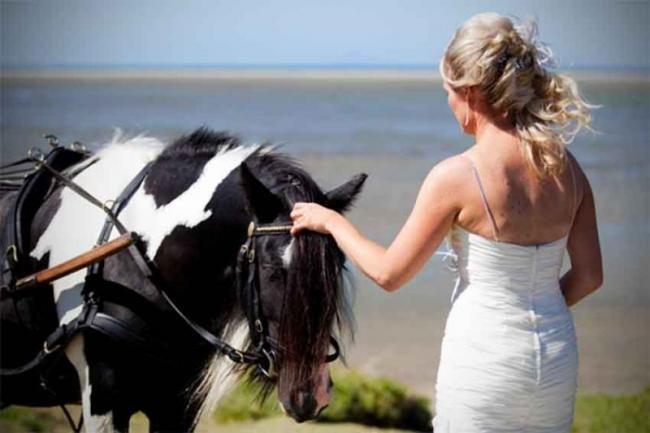 ---
Brightwater Gypsy Vanners & Carriage
---
Creating Memories to Last a Lifetime.....
---