The Farm
---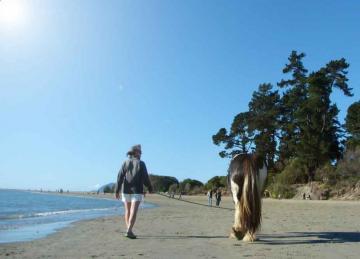 Brightwater Gypsy Vanners has now moved from Nelson, to 1.25 hours north of Auckland just outside of Wellsford in the lovely Tomorata valley. The farm is a luscious 90 acres of rolling to flat pasture land, dotted with a further 50 acres of mature native bush all around the property. It is well fenced and has a permanent creek running through, which makes for a cooling native bush walk in summer. The area is surrounded by the amazing east coast beaches, some with great surf and forestry for fun trail riding. The area is a horse mecca and being so close to the big apple allows for the city life when one needs a quick dose of it.

It was an epic journey moving a household, a business and 34 horses from one island to the next on a 2 day trip. All the horse travelled well thanks to Majestic Floats who were so patient and professional in their handling of the horses. Some had very little float training and everything went smoothly due to their expertise.


---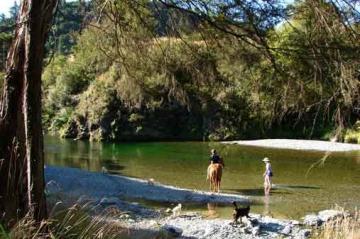 Now she is re-establishing herself on the new farm and in the process of building a horse complex to be able to maintain all her horses. However, for all the hard work, the friendly neighbours on a beautiful farm, stunning beaches, 37 gorgeous horses and 3 hairy mutts for company, were more than worth the effort.

Brightwater Gypsy Vanners takes great pride in running her farm in a sustainable, organic manner and her alternative, holistic principles applies to all walks of life, including herself as well as the horses. She feels that nature can not be improved on and it is man's constant intervention and meddling that has upset the balance and although running a farm in this manner takes a little thinking off the beaten track, it is well worth the effort in the long run. She runs a face book page called Kathy's Korner with all her cures and remedies for healing wounds and keeping oneself young and fit. If interested you she is happy to add you to the ever growing list of people that are looking for safer and free ways of caring for themselves and their loved ones.

Kathy's Korner
---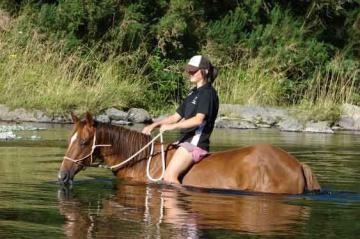 My daughter Seymour riding her first horse in our sadly missed swimming hole in Nelson.

---
About your Stud Owner
---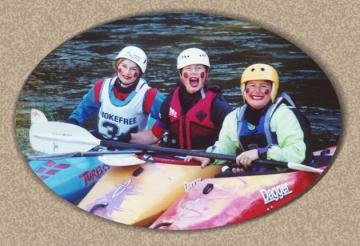 Brightwater Gypsy Vanners is owned by Kathy Andrus (centre in picture), a Canadian who immigrated to New Zealand back in 1986. She first came to NZ while training for the Canadian whitewater kayaking team and ended up staying permanently and has never looked back since. She started up a business quite by chance back in 1986 designing and manufacturing whitewater kayaking equipment called Down Under. It quickly expanded into all disciplines of kayaking and the first reusable nappy in New Zealand, called Down Undies. However it began to dominate much of her time with the 8 staff, plus the commitment that was required of running a larger business. After 15 years of building the business in the Manawatu she felt a calling to a more quiet lifestyle that kept her more outdoors and moved to Nelson in the Tasman District, which reminded her very much of her homeland, British Columbia, Canada. However, within a few years she discovered the gypsy vanner and quickly outgrew her land in Nelson and finally made a long and arduous move to her current farm in the Tomorata Valley, just north of Auckland.
---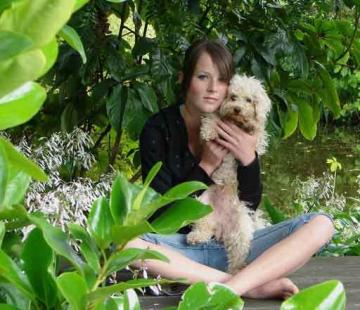 She has actively been involved in many sports besides whitewater kayaking, such as mountain biking, badminton, fastball, freestyle skiing, some at international levels. Her daughter Seymour (pictured at left with Pipi) discovered the gypsy vanner horse back in 2004 when she was surfing on the net. From then on it has been a love affair with the gypsy vanner and as they say, they are like potato chips.....you just can't have one. After nine years now with a herd of horses, most think Kathy has owned horses all her life as she does her own training, feet trimming (when time allows) and breaking in of the horses. She owes much of her knowledge to Craig Doty and of course time spent watching the horses.

She firmly believes that eating the right foods and living in a chemical free environment has made all the difference in her life and is still as fit and strong as a 20 year old. Kathy has a passion for the outdoors and a very strong interest in organic and sustainable principles. Her time is shared between managing 37+ and growing beautiful horses, 3 faithful dogs, sewing kayaking equipment and the building of organic structures, whether that be mud, stone, timber or whatever medium is suitable to her needs. Even recycled tires come in handy at times and she has more than her fair share to do.

Below - Kathy with Pipi, Oscar and Teddi
---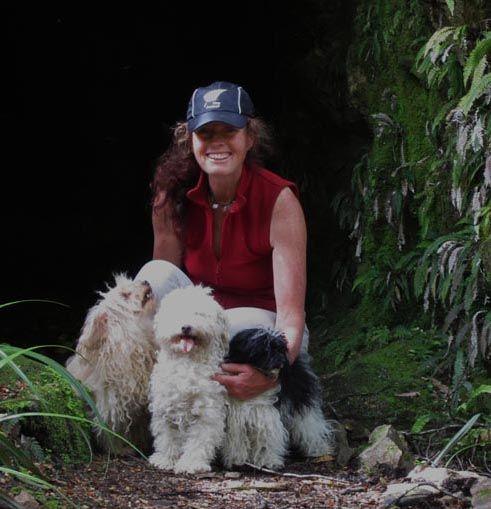 ---